The new Sony 4k PXW-Z100 and FDR-AX1 4k cameras
Here's a clip from
Alister Chapman
at IBC about the new Sony 4k PXW-Z100 camera - and at about 2:30 they talk about why you would use the PMW-200 over this jobber!


http://www.newsshooter.com/2013/09/13/ibc-2013-sony-pxw-z100-and-fdr-ax1-4k-cameras/


So don't feel so bad! You probably have a better camera! Unless you have client clamoring for 4k…..

But seriously, 4k on a less-than-half -inch chip!? I notice all the demo shots are wide, because if they shot close you would see how video-y it will look. Still, pretty cool.

What I have been imagining is a camera like the EX3 with (3) 4k chips, or one big one. Been looking again at the FS-700, as they have enabled the 4K capability on that, and it looks pretty. Super 35mm sensor as in the F5 and F55.

A quick way to explain the Bayer sensor deal (almost all of these large single-chip cameras nowadays are Bayer sensors) is:

"One thing to remember is that because of the nature of a Bayer sensor you need the sensor to have a higher pixel count than the final desired resolution. Typically you want at least 30% more pixels than your target resolution. As a minimum for good 1080 you want around 2.5K-2.7K pixels."

That's also from Alister Chapman, a cameraman/blogger who knows his stuff. So when the REDs of the world are bragging on their latest mega-mega-pixel sensor, you have to ask, "how many REAL pixels is that?"

Yeah - no way I could afford it either - but it's pretty!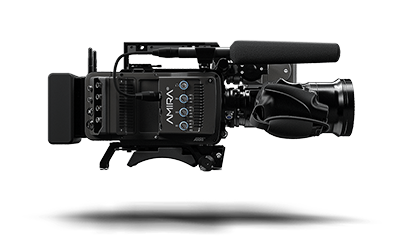 http://www.arri.com/amira/


The major thing is THEY BUILT A CAMERA THAT YOU CAN PICK UP AND SHOOT WITH like normal cams of yore! Did you see the adjustable shoulder rest and eyepiece?! Don't need an effing cage with crap bolted all over it! AND FULL QUALITY 200fps! Yowza indeed.

They have some over-the-top grading on the showreel stuff, but I generally like the look of Alexa-stuff over RED. Haven't ever really cared for the look of a lot RED footage - it seems to have a "hardness" that doesn't appeal to me. Still like the look of Sony stuff though - guess I'm a traditionalist. They get slammed a lot for being excessively red-tinted by people who like the green-leaning look of Ikegami (if they're old like some of us) or the "moody" green grades you see in movies these days.

Still hope to one day either be able to afford (have jobs for) an F3, or maybe an FS-700. I keep thinking (thought the new EX-3 upgrade, the PMW-300 was going to be it - but it ain't) they're going to combine an EX-style camera with an F3-type sensor and such.

Good article on trying to make sense of sensor size and crop factor:
http://www.lensrentals.com/blog/2012/01/sensor-size-matters-part-1
It's skewed toward still cameras a bit, but overlaps video a fair amount. Haven't read the whole thing (makes my head hurt), but so far he's left out the whole 3-chip vs. 1-chip deal, which a lot of talk about sensor size tends to do. Read up on "de-Bayering" - what 1 chip large sensor cameras have to do to make 3 colors. You have to get up into the F5 kind of money, I believe, before you get into a camera that doesn't have to do a bunch of computational magic to simulate 3 colors (unlike traditional 3-chip cameras). But most people don't care or know about that. Big sensors do have a number of benefits that outweigh the negatives - particularly for people that don't ever have to deal with the technical issues!

The other big thing about most of these cameras is that you are typically looking at an investment of 1-2 times the cost of the camera body to fit it out with lens(es) and ancillary gear needed to make it function like a normal, full-on camcorder. Hence you have all these still photographers that led the charge into DSLR video, since they already had a significant investment in camera lenses.

Even with the Blackmagic Pocket Cinema Camera (around $1k), you kinda want a good all-around lens with Image Stabilization, etc. which is going to run you more than $1k -- then you need a boatload of spare batteries (they only last ½ hour) and high-end memory cards, blah blah. And it's only "Super 16" size (smaller than full 16).

Speaking of the BMPCC - this is a kinda nice piece shot on it, from Philip Bloom - though largely due to the light and the subject. If you were standing next to him with your camera (what ever it may be), you would have gotten some really nice footage as well.

https://vimeo.com/72996911
He did a lot of post on it with FilmConvert, etc.
http://philipbloom.net/2013/08/27/pocketcamera/